Design Trends and Inspiration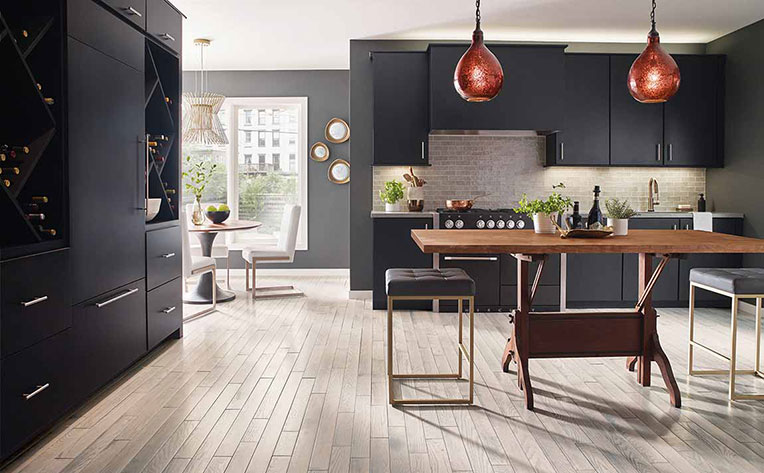 Jun 24, 2019
Redecorating your home is supposed to be exciting — not stressful! To keep the process as easy (and fun!) as possible, it helps to go in with a clear sense of style: what you want, what you need, and what you'd rather steer clear of. But with so many style options to choose from, refining your search can feel overwhelming. That's why our home flooring experts wrote this short guide, where we break down the basics behind five contemporary and modern interior design styles. Read on for a tour through some of the hottest and most popular design trends for 2019.
Modern & Contemporary Interior Design Styles Explained
What Are the Different Types of Modern and Contemporary Design Styles?
What are the different design styles, you wonder? There are dozens (or maybe hundreds) to choose from, depending on how technical you want to get! To keep things simple, we're focusing on five of the trendiest, including:
Mid-Century Modern

Industrial

Bohemian

Shabby Chic

Farmhouse
While these are the styles we'll be looking at today, don't feel like you have to restrict yourself to only these five groups! When it comes to designing home interiors, the only limit is your creativity. Other design styles you might be interested in exploring include transitional, eclectic, coastal beach house, and classic.
Mid-Century Modern
"Mid-century modern" refers to furniture and decor from around the middle of the twentieth century, which was characterized by organic forms, clean silhouettes, and elegant lines. While this style utilizes all sorts of materials, some especially common examples include aluminum and plywood. One advantage of the mid-century modern style is its flexibility, which allows pieces in this style to accent and complement virtually any room in the home.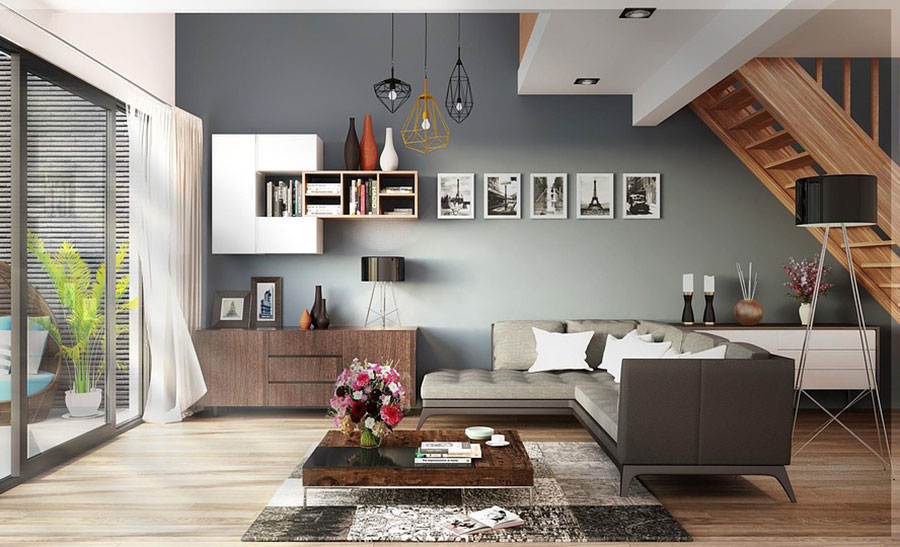 Industrial
This time we're going further back in history, past mid-century modern and all the way to the industrial era, where this style draws its inspiration from. Industrial decor — which is enjoying a huge popularity boom in bars, coffee shops, and restaurants all over the country right now — typically features elements like exposed brick, copper pipes, and weathered wood. Since it relies on basic, "bare-bones" design elements, industrial decor can take on a rustic feeling, which makes it a natural style partner for farmhouse decor (which we'll get to in just a few minutes).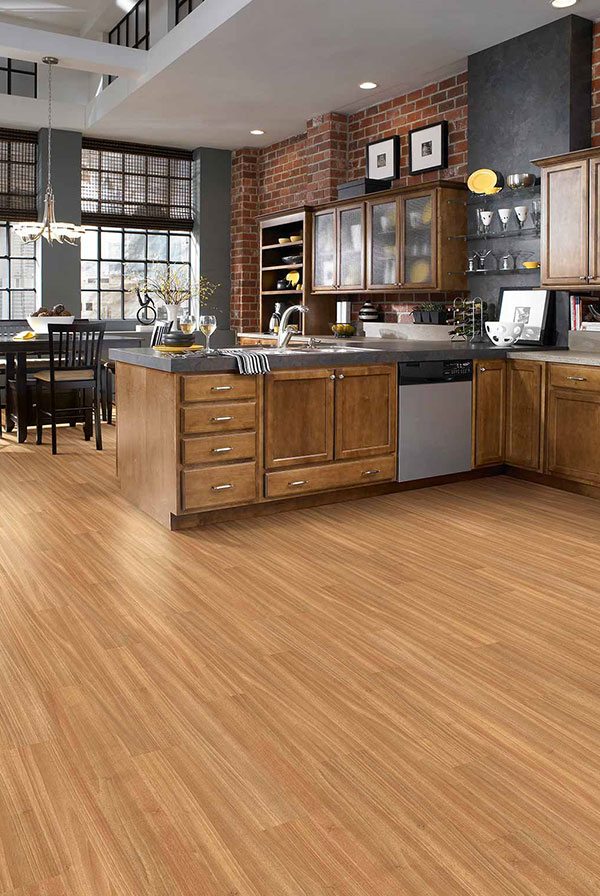 Bohemian
The dictionary gives synonyms like "offbeat," "avant garde," and "free-spirited" for the word "bohemian." If that sounds like you, shouldn't you express it in your style, too? Bohemian decor is the perfect channel for everything experimental, from natural textiles and animal hides to decorative tapestries and area rugs.
The key is to create a rich, inviting, yet informal atmosphere that welcomes guests and encourages great conversation. Plush textures, mood lighting, and earthy colors can help you capture the right spirit.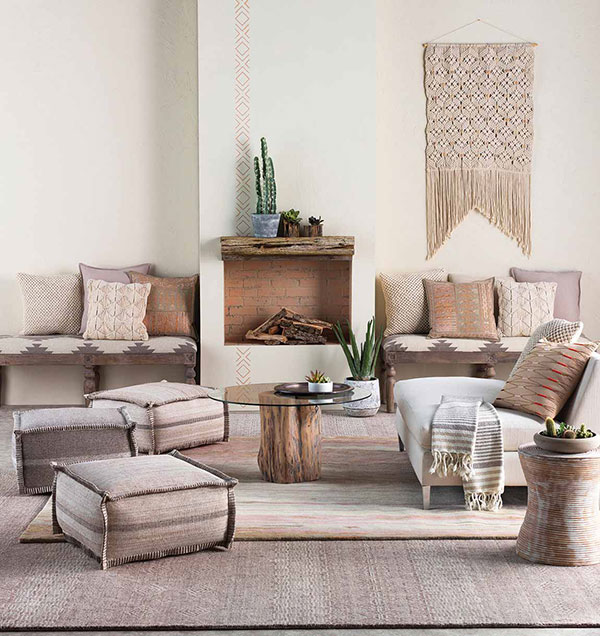 Shabby Chic
Think of shabby chic as bohemian's thrifty, eco-conscious cousin. Shabby chic emphasizes furniture and decor that has a lived-in, aged, antique appearance, like a great vintage find from a thrift shop or flea market. The "chic" part comes in through textiles and colors — usually, but not always, pastels and light hues — which help elevate the pieces and give the room an overall richer feel.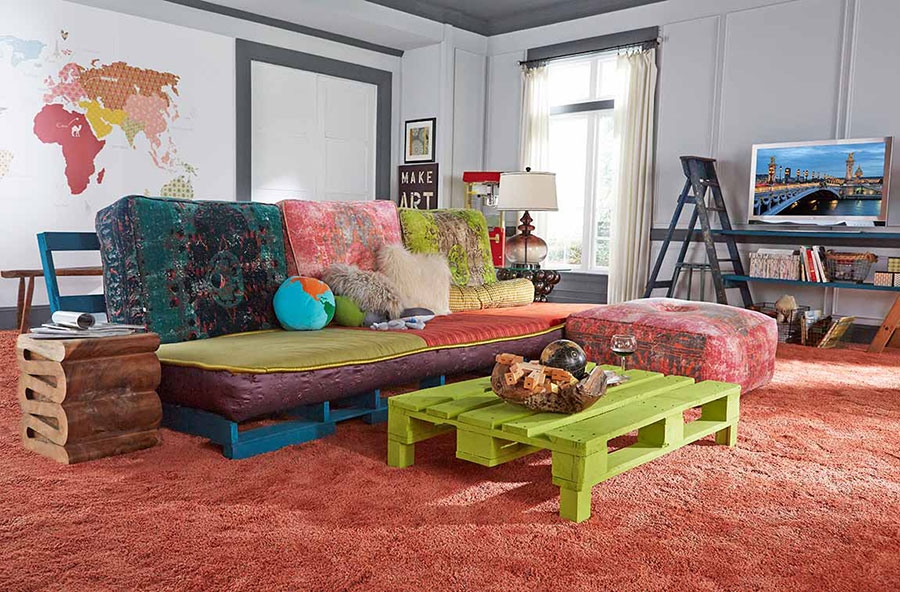 Farmhouse
Remember when we said that farmhouse and industrial styles made the perfect pair? That's because both lean heavily on naturalistic, pared-down design elements like wooden tables and shelving, making them easy to blend and integrate.
If the industrial style seems like it might be a little too "edgy" for the family home, the farmhouse style is a warm alternative. This timeless approach to design is all about bringing the calm and simplicity of nature into the home. Farmhouse style homes are full of floral accents, natural colors and fabrics, and creative arrangements of vases and pottery — just like you'd imagine from a peaceful, idyllic day in the countryside.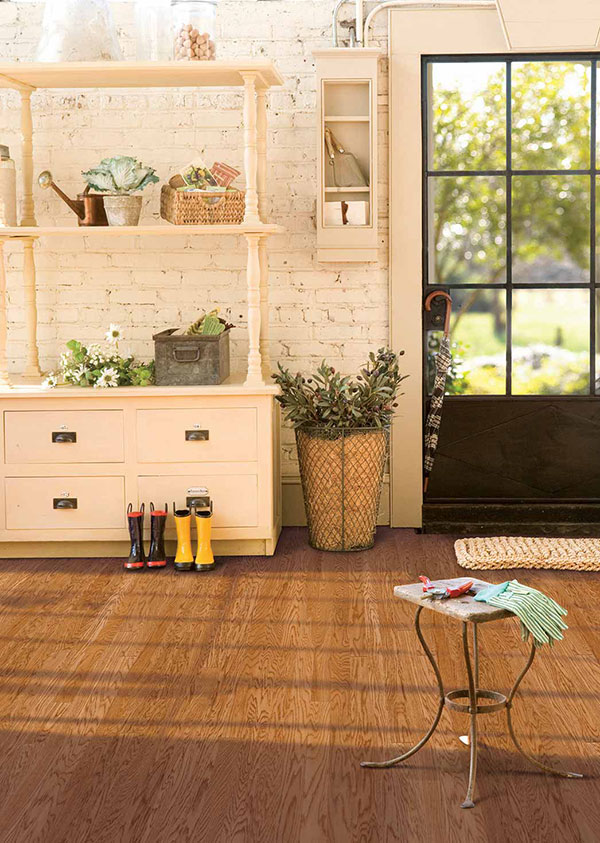 Get Modern Interior Style Ideas from My Design Finder
We hope this article has given you a few ideas to help make your design dreams a reality. For more design inspiration, head over to My Design Finder, which gives you beautiful interior design examples personalized to fit your style preferences. Then, ask the friendly team at Flooring America how we can help you transform your kitchen, bedroom, bathroom, or any other space in your home.
From stone and bamboo to carpet, vinyl, and beyond, we carry top-of-the-line home flooring products in dozens of colors and patterns to suit any taste. Contact us online to get started, or call Flooring America today at (866) 439-6743.
Continue Reading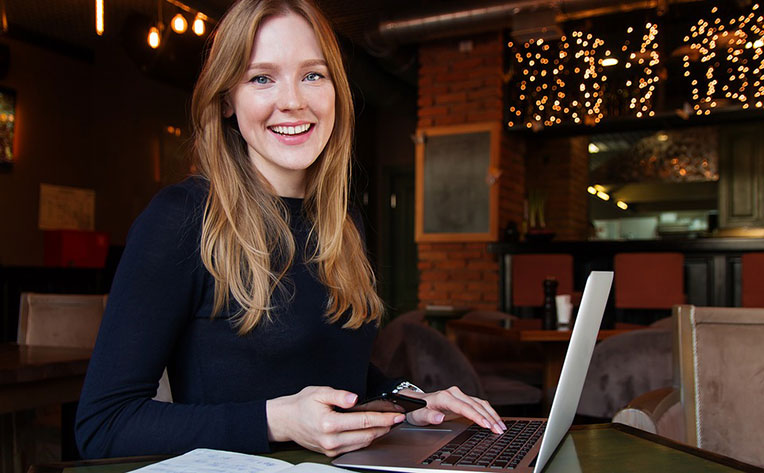 Jun 10, 2019
A little bit of style goes a long way when it comes to appearance and attitude. With experience, talent, and the right set of tools, a good interior designer can transform any space from "Blah" to "Bravo!" The question is what makes an interior designer good? How do you choose the right one? And what sort of information do you need to know beforehand? If you're thinking about hiring an interior designer, these are the questions you need to ask! Read on to find out the answers.
How to Choose an Interior Designer
Benefits of a Good Interior Designer
Hiring a skilled interior designer can have many benefits — not just for your home's appearance, but also your wallet (and peace of mind). Let's take a closer look at three major benefits of hiring an interior designer to help decorate your home or apartment:
Save money

: Especially in older buildings, it's all too easy to make a mistake that could wind up costing you thousands of dollars. An interior designer can help you avoid hazards, pitfalls, and some downright regrettable design choices.

Get ideas: An interior designer can introduce you to ideas you might never encounter otherwise. Not only that, a good designer can transform your rough, sketchy ideas into a concrete, fully-articulated vision.
Reduce stress: Let's face it, life isn't always like HGTV, and finding the time and energy for a home design project can be challenging. Hiring an interior designer lightens the load and takes stress off your shoulders, freeing you up to focus on the things you really care about.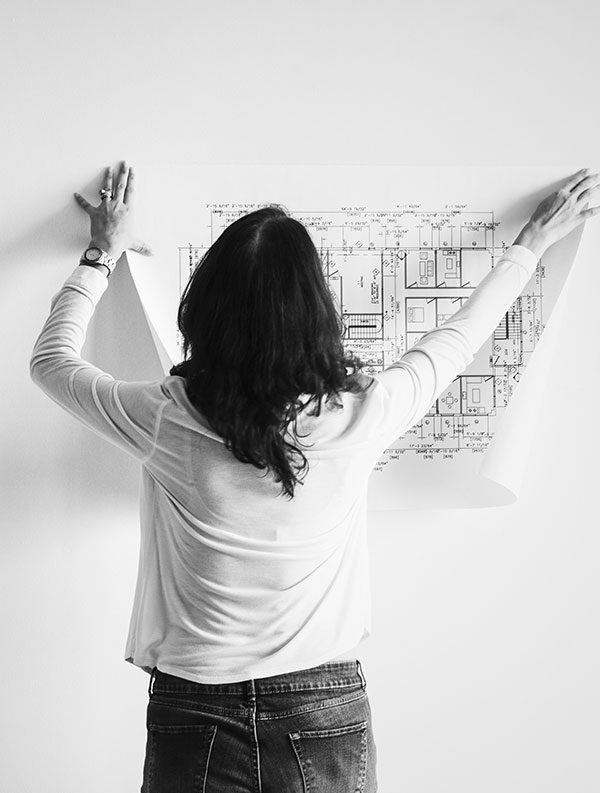 What to Know Before Hiring an Interior Designer
Now that you know the advantages of hiring an interior designer, here are five factors to consider before you start looking for design help:
Not all designers charge the same:

For more information about money and budgeting, scroll down to the section about how much it costs to hire an interior designer.

Model homes are great places to look for designs you love: Model homes, open houses, and showrooms create fantastic opportunities to view different styles and themes in 3-D — and find designers you love in the process.
Professional organizations are another great resource: Finding a competent and experienced designer is essential. That's why it's a good idea to check with trusted professional organizations, like the American Society of Interior Designers (ASID), for directories or referrals.
Look for designers with the proper certifications: You should strongly consider hiring a designer who has the appropriate formal licensing and certification. While standards vary from state to state, ASID accreditation is a solid starting point.
Choose someone who demonstrates good communication skills: This cannot be emphasized enough. Bringing your dream to life demands collaborative effort, which means you need a designer who can clearly articulate ideas, explain the potential roadblocks ahead, and work with you to achieve safe, budget-conscious, and stylish solutions.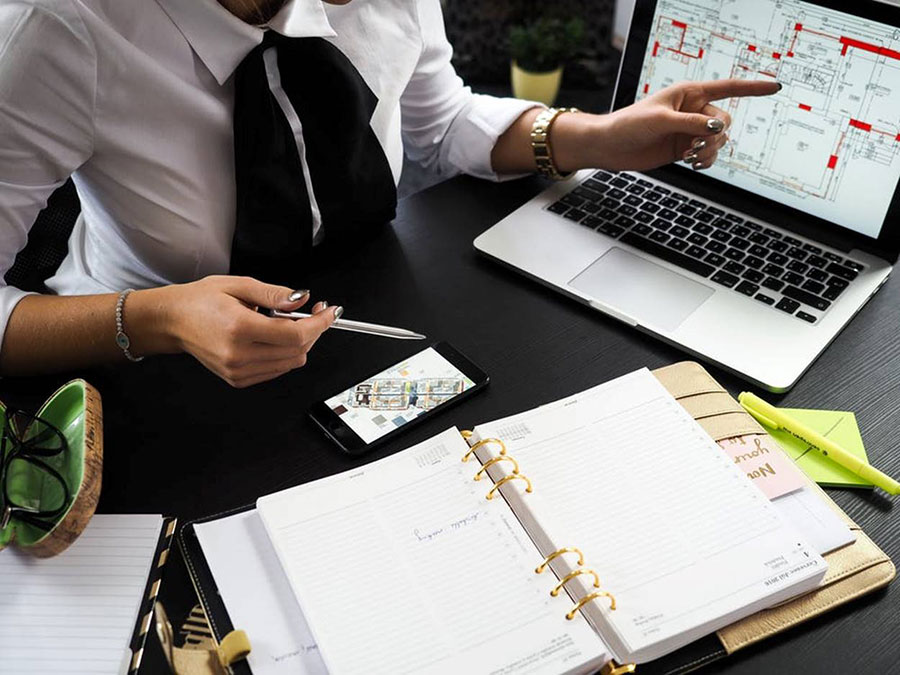 Questions to Ask an Interior Designer before Hiring
Below, you'll find a helpful list of possible questions to ask before hiring an interior designer.
Are you accredited? Do you have any professional licenses and certifications?
How many years of experience do you have?
What sorts of styles do you have experience with?
What do you typically charge for projects like mine?
Do you have examples of previous work?
Can you provide any testimonials or recommendations of your work?
How Much Does it Cost to Hire an Interior Designer?
Unfortunately, the answer to this question is that it simply depends on the service or person you choose. That being said, it's important to keep in mind that some designers charge on an hourly basis, while others charge a flat fee that covers specific services (which should be determined in advance through a written contract).
When budgeting, try to be realistic about how much time your project will require. Otherwise, you may wind up seriously underestimating the cost of a designer who charges by the hour!
No matter how the designer charges, get information about his or her rates at the outset of the process. That way, you won't waste valuable time — or run into avoidable price disputes later down the line.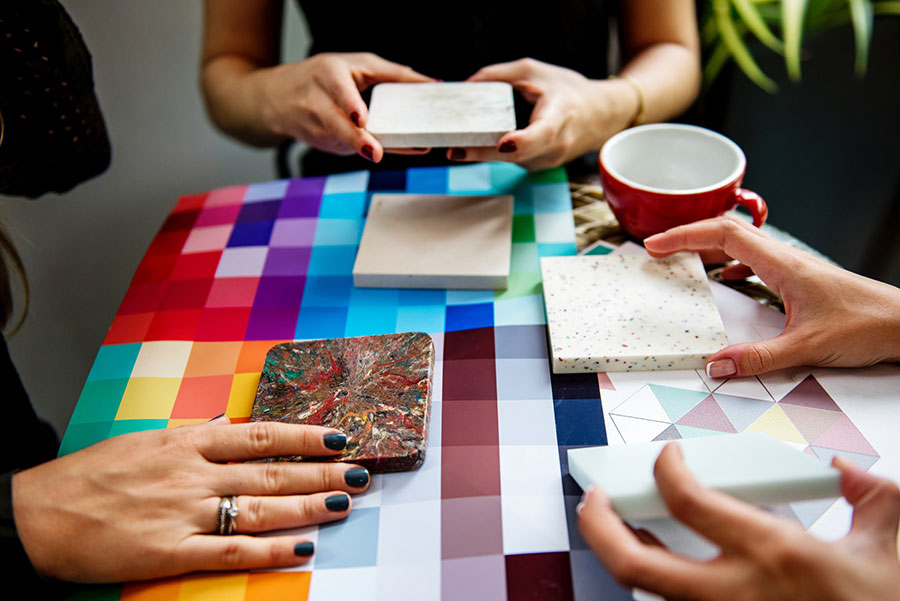 Get More Interior Style and Decorating Ideas from My Design Finder
Hiring an interior designer is a great step toward making your dream home a reality. But before you do, get inspired by browsing My Design Finder, our free and easy-to-use visual guide to personalized style recommendations. Simply choose a style you like, and let My Design Finder handle the rest!
For more design and flooring inspiration, contact Flooring America online, or call today at (866) 439-6743. We offer hundreds of unique, durable, stylish home flooring products at convenient locations throughout the U.S., including carpet, hardwood, stone, laminate, tile, luxury vinyl, and more.
Continue Reading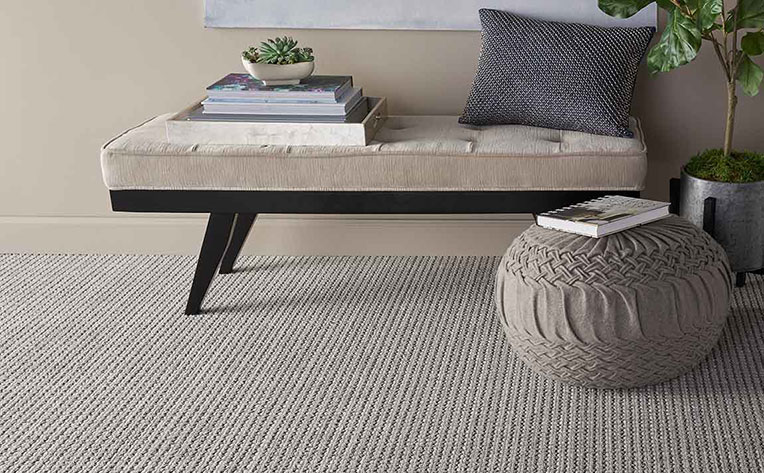 Jun 03, 2019
Seven often seems like a magic number, and there's no exception when it comes to interior design. If you've been stuck in a home decor rut, look to the seven elements and principles of interior design for creative inspiration. You might be surprised at how much you can learn by going back to the basics. Just read on to find out for yourself!
7 Elements of Interior Design
What Are the 7 Basic Elements of Interior Design?
As the old saying goes, "The whole is more than the sum of its parts." The same thing is true for interior design — which is really just an illusion created by balancing different elements effectively.
Think of it like this: learning about the ingredients that go into your favorite recipes will help you master cooking. In the same way, learning about the design elements that go into your favorite styles will help you master decorating.
So what are the seven key elements of interior design? They include:
Color
Form
Light
Line
Pattern
Texture
Space
Color
Color is more than just an aesthetic choice — it can also influence the entire mood and feeling of a space. For example, most people think of red as a "passionate" or "intense" hue, while blues and greens are usually perceived as "tranquil" or "soothing" and yellow is often associated with words like "happy" and "optimistic." Think about not only your visual preferences, but also, the sort of energy or attitude you're trying to cultivate when deciding on a color scheme for your room.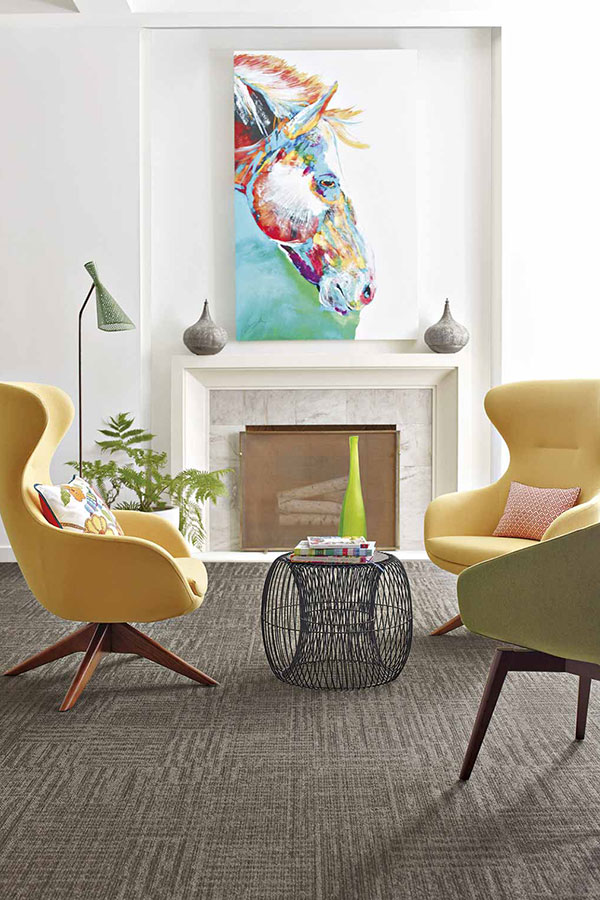 Form
"Form" is simply another term for "shape," expressing the contours of any artwork, furniture, or other 3-D object you could imagine. Furniture, sculpture, and even rooms themselves can take on two types of forms: organic forms (which are natural and irregular, with curvy or abstract shapes), and geometric forms (which feature sharp, man-made lines and edges, like squares or triangles).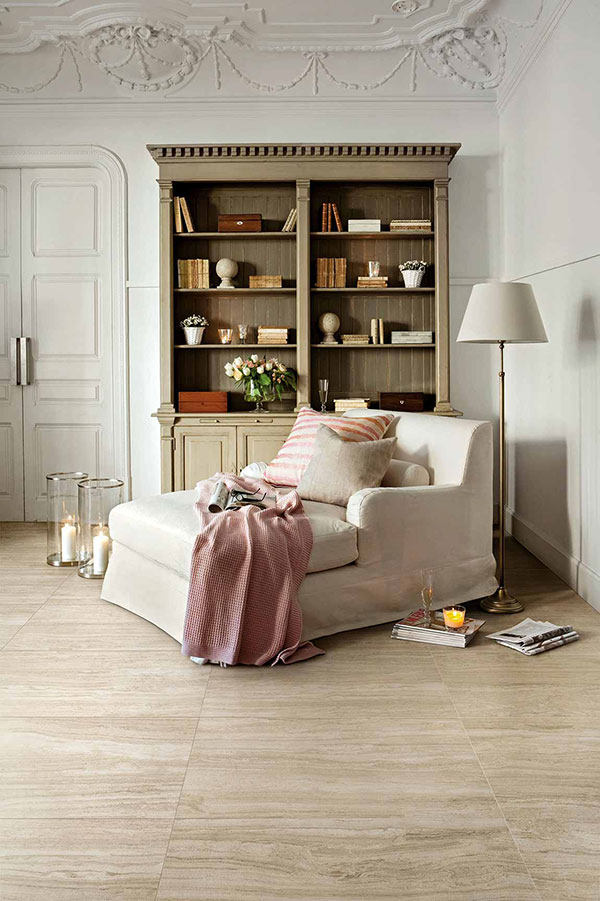 Light
Have you ever cringed at a photograph that was taken in bad lighting? Then you already know the power that lighting has to affect our perception!
Quality lighting is integral to any space, whether its sources are natural, man-made, or some combination of both. When choosing lighting for your room, think about factors like the color of the light (cool blue or warm yellow?), the light intensity (bright for cooking, or soft for reading?), and whether the light should be dimmable.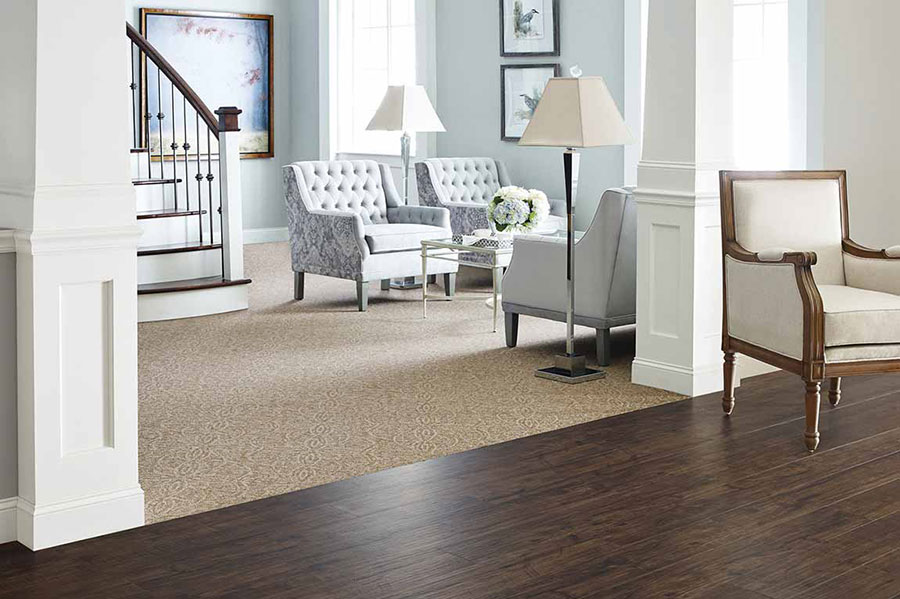 Line
Think of line as the perimeter around a form or shape. For example, if you were to draw any object in the room, you would probably start with its outline.
Lines can be "vertical" (up-and-down), "horizontal" (side-to-side), or "dynamic" (lines that express motion, like zig-zags or curlicues). Design experts say that horizontal lines create a feeling of security, while vertical lines are expressive and bold. Dynamic lines, which follow their own set of rules, can add a fun, exciting touch to any space when used strategically.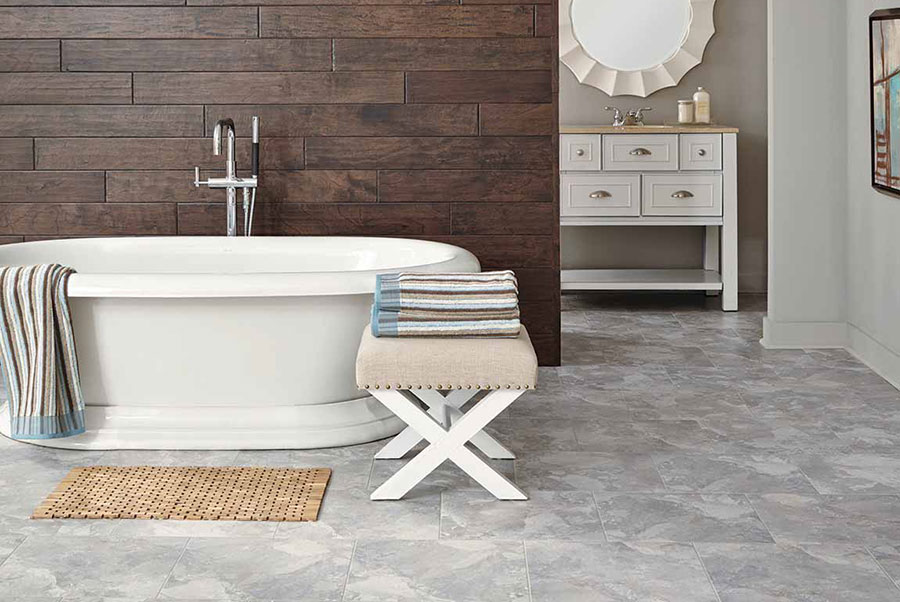 Pattern
A pattern is the intentional repetition of forms, lines, or other design elements. Patterns usually pop up on wallpaper or fabrics, but can appear anywhere in the home, even in the use of light or other design elements. While patterns can add life and motion to a space, too many clashing patterns can start to look chaotic, so tread lightly when choosing your favorite prints.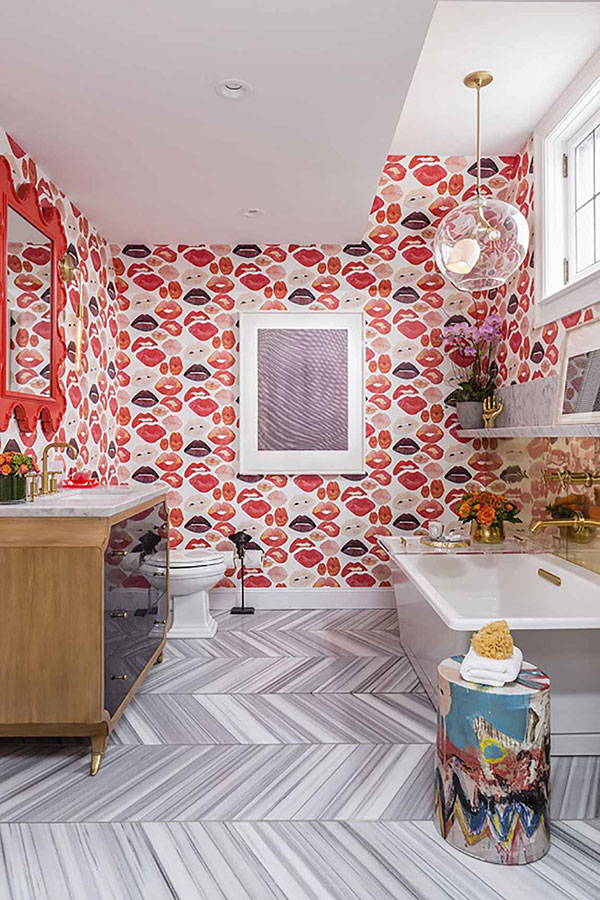 Texture
Not to be confused with pattern, texture is the way an object feels. This can mean the way the object literally feels to the touch, or the sense it gives when simply observing the object. For example, you might say that a surface looks "weathered" or "vintage" without actually touching it, thanks to the creative use of texture.
Careful consideration of texture is especially important in parts of the home that you contact frequently, like your flooring. We can help you find floors with the perfect, comfortable texture to start every day on the right foot.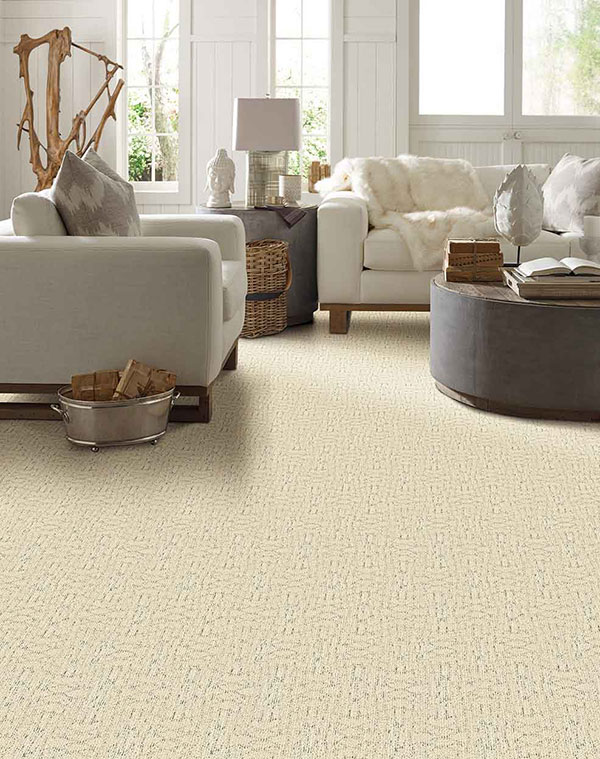 Space
Last but not least, space is at the heart of virtually every design decision. There are two basic types of space to consider: 2-D space (which accounts for the length and width of a room), and 3-D space (which covers height). For example, only 2-D space is important when thinking of carpets or rugs — but you'll need to think about 3-D space before adding new shelving or furniture. It's also important to leave enough empty or "negative" space to allow for fluid, easy navigation (and break the room up visually).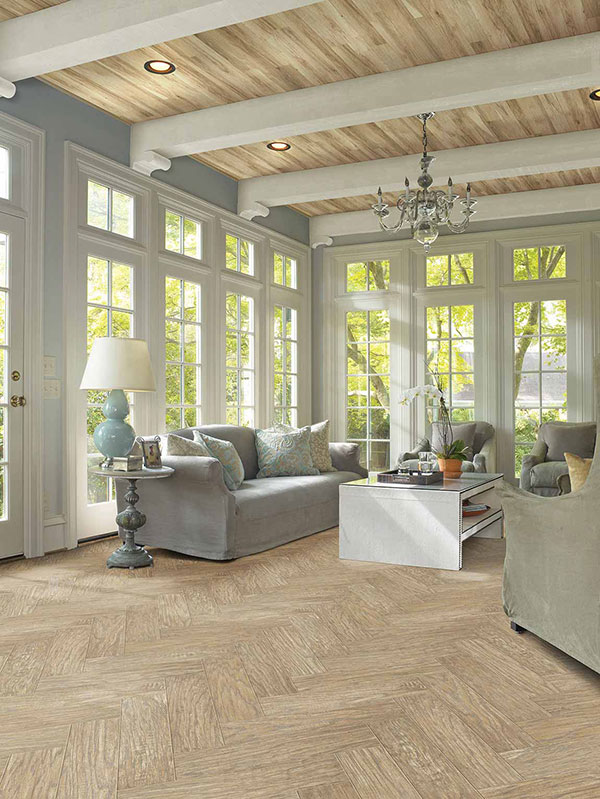 Get More Interior Decorating and Style Ideas From My Design Finder
Let color, form, space, texture, pattern, line, and light be your guide through the world of interior design. But if you need a few more pointers, head over to My Design Finder, where you'll be matched with personalized design ideas. To learn more about how gorgeous custom flooring can express your style — and maybe even help you save money on your energy bill — contact us online, or call Flooring America at (866) 439-6743 today.
Continue Reading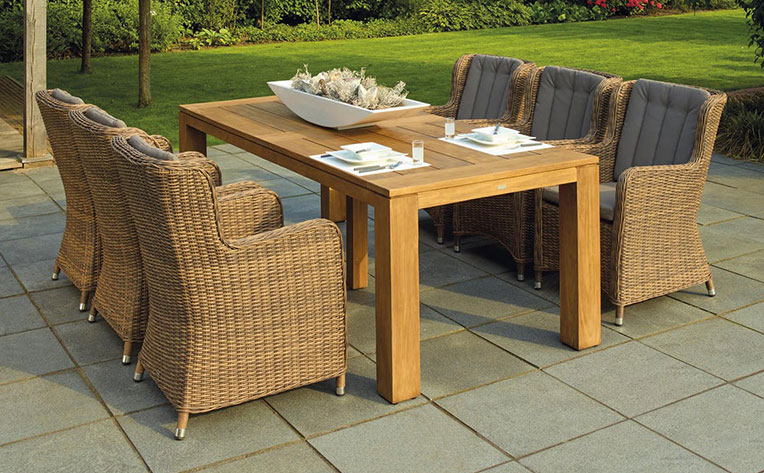 May 28, 2019
Ah, the nostalgic 90s: the decade when boy bands, Napster, and gel pens reigned supreme. But while Beanie Babies might not be making a comeback any time soon, the same can't be said of these classic 1990s interior design trends, which are forecast to crash the style scene in 2019. So dust off that Tamagotchi, put on your favorite pair of Sketchers, and grab a refreshing can of Crystal Pepsi, because we're counting down five 1990s design trends that are going to be hot this year.
90s Interior Trends That Are Coming Back in 2019
Wicker Furniture
Let's face it: when you think about "cool" or "modern" furniture, you probably don't picture wicker patio chairs. Believe it or not, wicker is making a trendy return to homes and apartments across the nation — only this time around, with a few style upgrades.
Thanks to its eco-friendly status as an all-natural decorating material — something you can find more tips about in our recent article on earthy decor — wicker is enjoying a resurgence among environmentally-conscious consumers, often incorporating funky vintage and retro prints on the cushioning.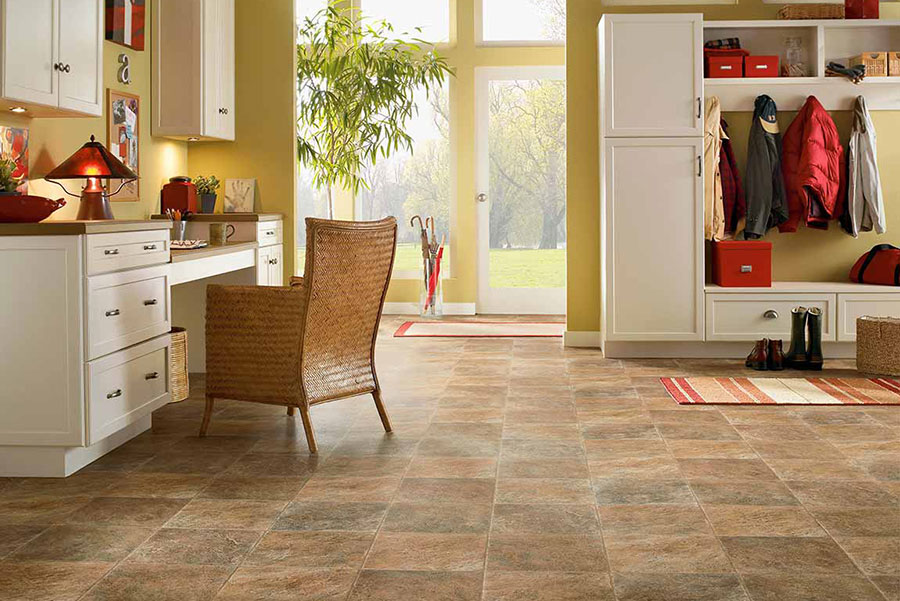 Canopy Beds
Who wouldn't love waking up cushioned below a dreamy, indulgent nest of luxurious fabric? When you're under the silky sky of a canopy bed, the view is tough to beat!
Canopy beds incorporate light, flowy fabrics that give your space a beachy, nautical feeling perfect for capturing that fresh coastal vibe. But to keep things looking modern, shop for a design that's sleek (not frilly or puffy), then pair with chic, minimal pillows and bedding.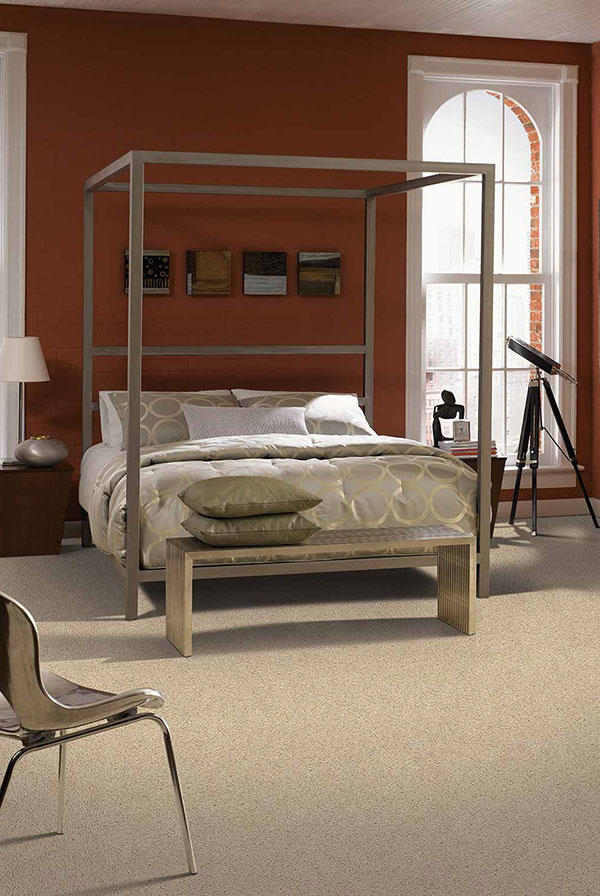 Pastel Colors
We recently dedicated an entire article to decorating with pastel colors, so you know this is a trend we can get behind! The wild popularity of Rose Quartz in 2016 — a soft, baby pink designed by Pantone — ushered in a new style era where pale pastels are king. For a modern twist (and some added visual interest), try mixing pastels with dark, sleek tones like black, brown, or the next color on our list.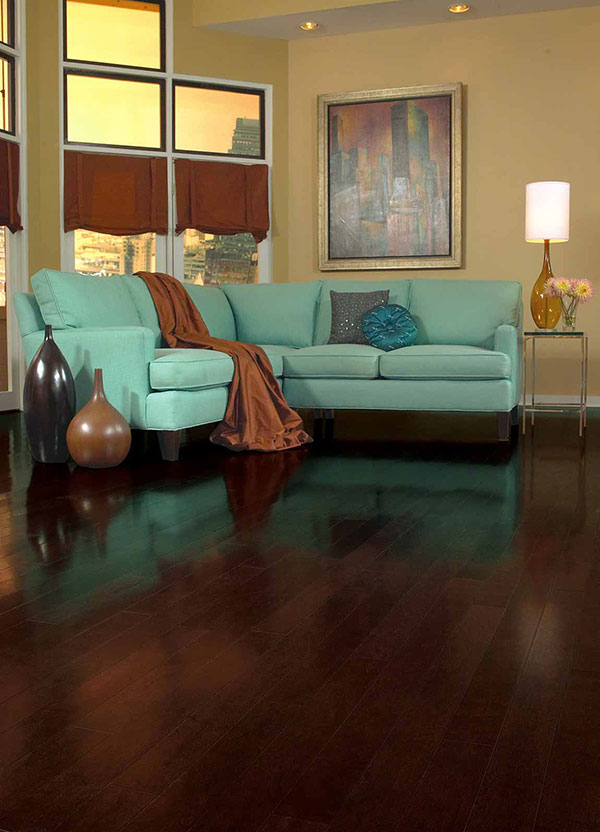 Dark Green
Fans of earth tones, rejoice! If candy-colored pastels aren't your thing, you'll love the next style forecast on our list: hunter green is making a comeback. Omnipresent during the 90s, deep green shades are in the design spotlight once again, thanks in part to the popularity of emerald green.
Maybe we have Pantone to thank, since the 2017 Color of the Year was simply called "Greenery" — a hue Pantone described as "refreshing and revitalizing… symbolic of new beginnings." (Don't miss the 2019 Pantone Color of the Year, either!)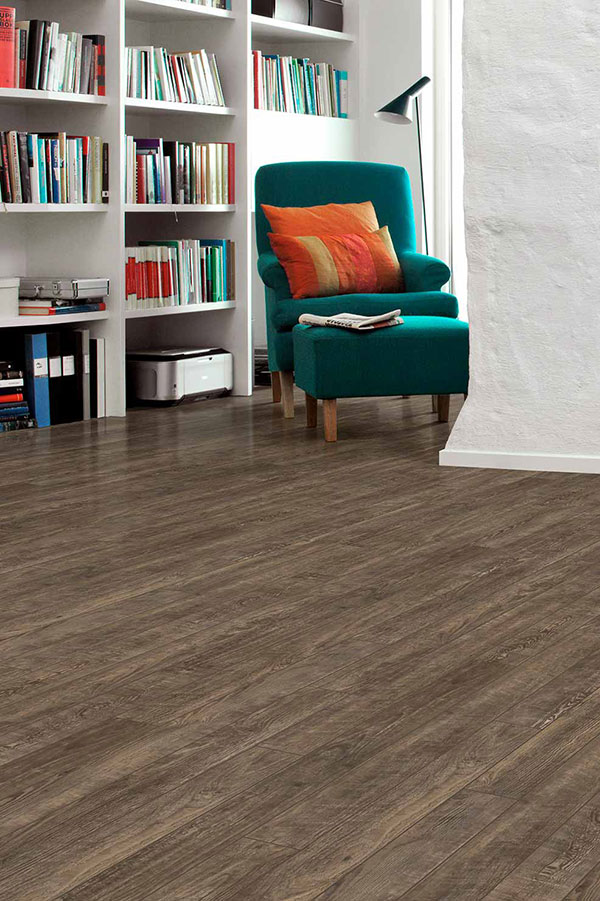 Beaded Curtains
Beaded curtains were all the rage during the 90s, when they were a fixture of teenage bedrooms everywhere. But today's funky curtain dividers aren't just for kids' rooms anymore. Taking bohemian design cues, modern beaded curtains come in plenty of subtle and sophisticated varieties, including fabric curtains that work beautifully to create lightweight, attractive partitions in roomy or open-plan spaces.
Get 90s Home Decor Inspiration With My Design Finder
Interior design has come a long way since the 1990s, but we can't seem to shake our love for Gameboys and neon windbreakers. Fortunately, you don't have to give up on the 90s just yet — at least, not when it comes to home decorating. Just update those old design trends with a few contemporary accents, and you'll be sure to get the best of both worlds for a space that's truly your own.
In the mood for more 90s-inspired design tips? Use My Design Finder to browse a stunning, personalized gallery that features every room in the home. Then call Flooring America at (866) 439-6743, or contact us online to learn more about how we can help you find the perfect floors for your home design project. From carpet to wood to tile and beyond, we have your floors covered.
Continue Reading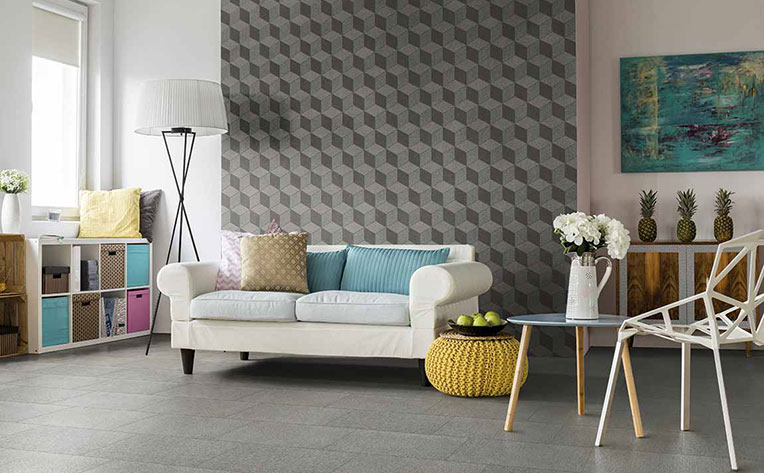 May 06, 2019
Robin's egg blues. Creamy mint greens. Soothing lavenders. Cute baby pinks. These are the soft, dreamy colors we associate with Easter and springtime — and now that winter is finally ending, it's time to get inspired! There are dozens of trendy yet affordable ways to incorporate pastel colors into any space, giving your home or apartment that fresh, dewy springtime feel. Keep reading for five simple pastel room decor ideas, and then use our My Design Finder tool to put the finishing touches on your vision.
How to Incorporate Pastels into Your Home Decor
Idea #1: Use Pastels in Paint or Wallpaper
Painting (or wallpapering) a room is probably the boldest and most noticeable way to use pastels in your home. If you're still undecided about whether you want to do the entire room in a certain color, you can always start with one accent wall to get a preview of how it feels. If you're feeling extra ambitious, you can even try doing stripes or color gradients for a special, custom look.

Idea #2: Use Pastels in Furniture
If the idea of painting or papering your walls in pastel seems a little excessive, you can try a more subtle approach by selectively using pastel accents instead. For example, you can use pastel furniture items, like end tables, sofas, or bookshelves, to add just the right dash of spring to any room in your home.
On a budget? No problem. Try repainting old furniture items instead of buying them new. Not only is repurposing old furniture good for your wallet — it's better for the planet, too.

Idea #3: Use Pastels in Decorations
This might be the most versatile tip on our list, thanks to the sheer volume of decorations you can mix and match between. Whether your home decor style is coastal, modern, retro, or rustic, there's a bottomless well of pastel decor options, from clocks and planters to sculptures and paintings. If you're too rushed to window-shop, you can find pastel accessories quickly and efficiently by searching online.

Idea #4: Use Pastels in Home Appliances
Who says pastel colors are restricted to the living room or bedroom? From toasters and espresso machines to blenders and even refrigerators, home appliances are a great (and practical) way to bring springtime into your kitchen, too. Fans of the 1950s retro style will especially appreciate these nostalgic, diner-like touches, which were popular during the mid-twentieth century.

Idea #5: Use Pastels in Chairs and Seating
When you think about it, almost every room in your home or apartment features some sort of seating arrangement. That gives you plenty of opportunities to incorporate pastel into your living room, dining room, kitchen, and bedroom. Barstools, writing chairs, reading chairs, and even wicker patio furniture can be purchased in all types of pastel colors, bringing a soft accent into every corner of your space. Purchase a matching set, or opt for a more eclectic approach by mixing and matching -- creating a truly personalized look.

Get More Pastel Home Decor Ideas from My Design Finder
Most of us need a little inspiration to get the perfect home decor ideas. That's why we created My Design Finder. With just a few clicks of your mouse, My Design Finder will show you beautiful home decor ideas, all based on your personal style and design preferences. Whether you're leaning toward breezy beach house, Americana retro diner, chic contemporary studio, bohemian getaway, or another style, My Design Finder makes it easy to bring your vision to life. It's your space, your way, on your budget.
Ready to learn more about decorating with pastel colors? Need help tying your floors and other parts of your home together? The home flooring experts at Flooring America are here to point you in the right direction. From tile and stone to wood and carpet, we offer a huge range of affordable, durable, high-quality products to suit any room in your home. We even offer eco-friendly and green products to help support the environment. To get started, call Flooring America at (855) 352-2837, or contact us online today.
Continue Reading
Apr 15, 2019
From tranquil deserts to snow-capped mountains, leafy jungles to sparkling beaches, nature inspires us all with its beauty. But who ever said that "the great outdoors" has to stay outside? Capture the spark that ignites your passion and bring more joy into your space by drawing on nature's limitless bounty. By decorating with natural elements, you can give any room in your home an earthy (and eco-friendly) makeover. Not sure where to get started? Don't worry: we've compiled some of our favorite natural interior design ideas to help you get the ball rolling.
How to Decorate Your Home with Natural Elements and Materials
The Modern and Earthy Home Decor Trend
At first glance, there might not seem to be much overlap between "earthy" and "modern" decorating styles — but by blending elements from each, you can achieve a breathtaking new look that beautifully balances the best of both worlds.
Design experts are forecasting that earthy interiors will be one of the hottest home trends in 2019. Just remember: when all is said and done, trends come and go. As long as you follow your gut and chase the feeling that most inspires you, your space is destined for a positive transformation.
How to Decorate Using Natural Elements
Natural decor and earthy interiors go together like peanut butter and jelly. The question is where to begin? Here are three modern earthy home decor ideas that can help you incorporate natural touches into your home:
Set up a terrarium (or two). It might sound fancy, but a "terrarium" is simply a see-through container to display small houseplants, like miniature cacti. Terrariums have become trendy over the past few years, and are available in empty or pre-decorated varieties. When hung in strategic locations, terrariums can transform humble houseplants into striking, suspended centerpieces for any room. Plus, they're fun to assemble with the kids!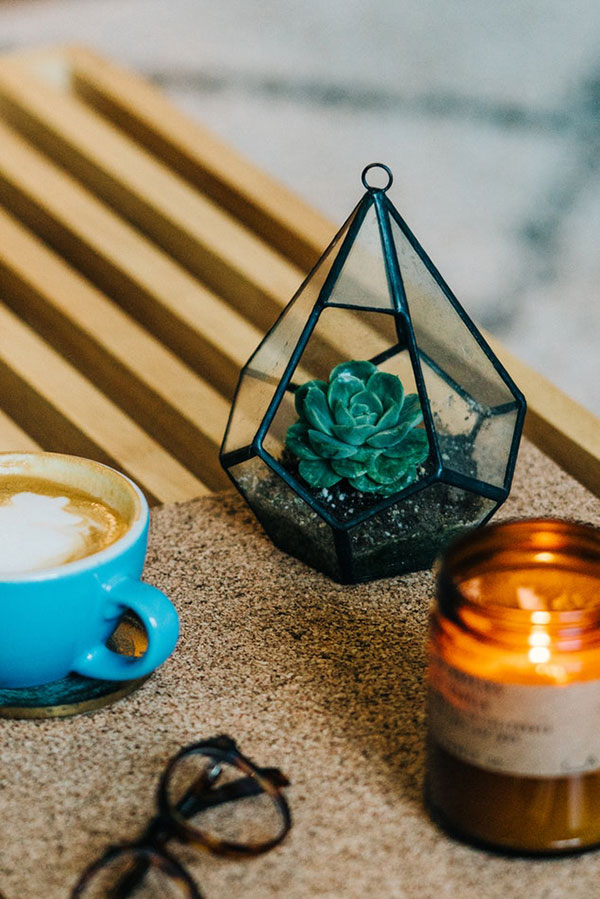 Swap a few chairs for wicker furniture. Nothing says "carefree summer afternoon" like the lightweight, timeless look of woven wicker chairs and furniture, whether on the patio, the lawn, or indoors.
Use materials from the natural world.

There are countless design elements that are either inspired by or sourced directly from nature. Some trendy examples include branches, fur (or faux fur), leaves, pine cones, and stone, such as stone flooring or decorative gemstones. For more ideas about types of natural materials you can use, just keep scrolling!

Different Types of Natural Materials that Make Great Home Decor
There are tons of affordable, eco-friendly natural materials that bring a stylish, sophisticated look to your home in 2019. Here are three popular examples:
Cotton — Bouquets of cotton bring a warm, understated yet elegant accent to your coffee table, shelf space, or blank walls. Consider contrasting a few sprigs of cotton with exposed brick or dark wood to help make the white fluff "pop."
Houseplants

— Nothing breathes new life into a room like a handful of houseplants. Succulents like aloe are trendy, lightweight, affordable, and low-maintenance, making them a great option for almost any space. Just be careful to avoid plants that could harm your pets or children.
Seashells

— A few strategically-placed seashells instantly bring a nautical, beachy feeling to your space. Plus, they're available in a huge variety of sizes, shapes, and colors, making them easy to pair with any room in your home. We can smell that fresh ocean breeze already!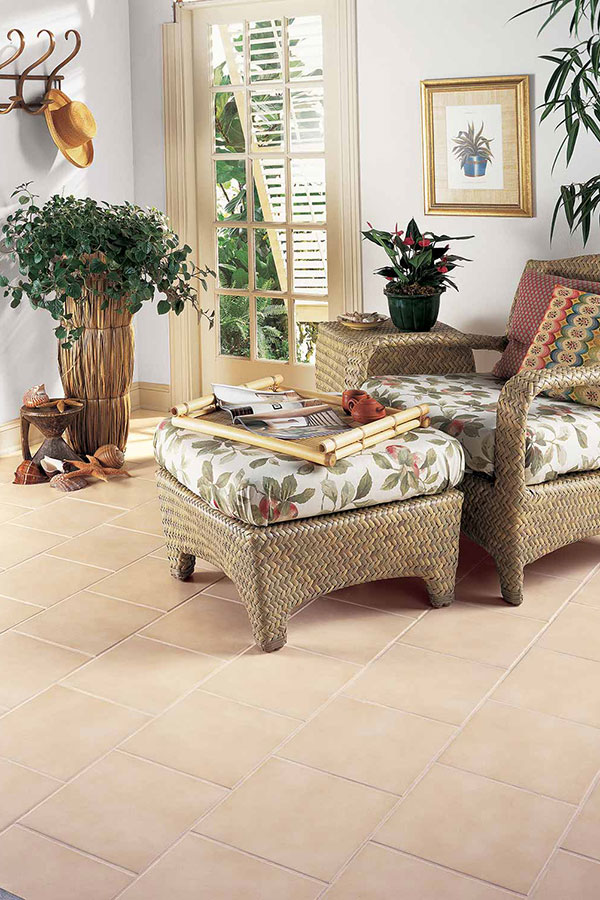 Find Green and Eco-Friendly Floors at Flooring America
The natural world is full of beauty — and at Flooring America, we strive to protect and preserve it for generations to come.
At Flooring America, you'll find natural, eco-conscious, and green flooring products to beautify your home with minimal impact on the environment. We set high standards for our Green Select products, which must be recyclable, contain recycled content, and be made using renewable, natural, or sustainable content.
When you choose Green Select, you can feel confident you're supporting a healthier planet — and getting a product you'll love. To find great prices on green flooring near you, contact Flooring America online, or call (855) 352-2837 today.
Continue Reading