As the saying goes, "everything comes back in style" and this couldn't be more true for fashion, art and design, with interior design being no exception. From the revival of 70s retro inspired interiors to the 90s-esque acid wash jeans and band tee's that are once again taking over store displays, we've seen trends come in, out and back in style. One trend that interior design experts firmly agree is here to stay is Distressed Vintage.
Known for its versatility, Distressed Vintage design is a trend that we can't get enough of in 2022. The focus of this trend is all about investing in quality and creating a lived-in look that helps make any space feel like home. Vintage styles, like white-washed antique barn doors and hand-scraped wood, are timelessly elegant and a no-brainer for those looking to design a space that calls back to simpler times. To help kickstart your Distressed Vintage design, we've compiled some of our favorite flooring products that will serve as the perfect base for whatever you have planned.
1. Rustic Hardwood Flooring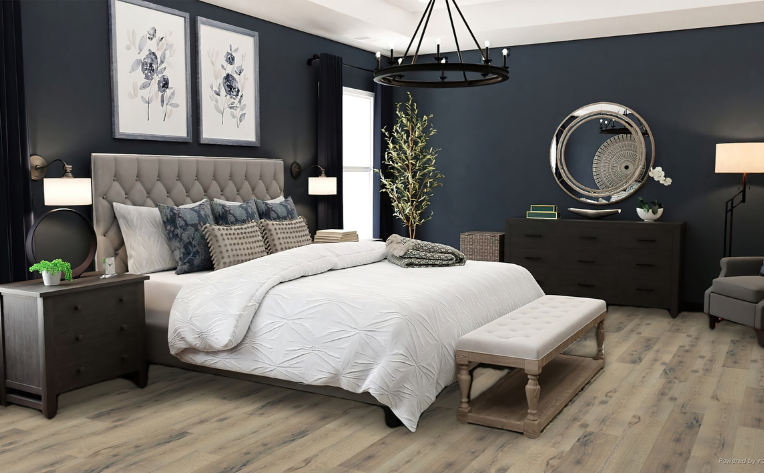 Gilmore White Oak by Floorcraft Heritage in Burly
One of the easiest ways to create a Distressed Vintage design in your space is to incorporate rustic hardwood floors, like this Gilmore White Oak hardwood from Floorcraft Heritage. This wire-scraped hardwood showcases the natural knots and grain patterns that give it a vintage look and feel without sacrificing the durability of modern-day flooring. This is a multi-layered engineered hardwood, making it ideal for any space, even water-prone areas like the kitchen or bath, and the Gilmore White Oak is highly scuff resistant making it a great choice for a lived-in look that maintains its quality for years to come.
2. Comforting Carpet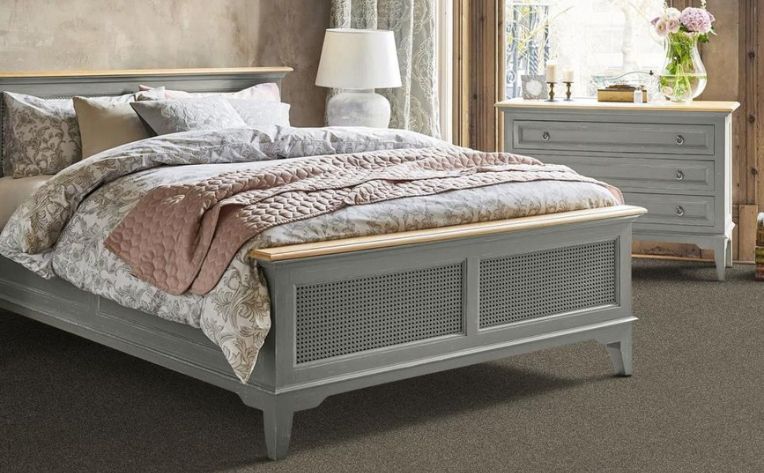 Soft & Silly by Resista Soft Style in Hearts Desire
One of the key facets of Distressed Vintage design is the feeling of lived-in comfort, which is something easily found in this stunning Soft & Silly carpet by Resista Soft Style. Not only is this plush carpet soft underfoot and available in 20 different hues, it is also exceptionally stain resistant to all kinds of food and beverages – including red wine! Mixed with antique or stripped wood furnishings, this carpet is the perfect way to bring some comfort and warmth to your Distressed Vintage design.
3. Durable Vinyl Flooring
Atlantic Beach Vinyl Flooring by Downs Life H2O in Cyrus
Vinyl flooring is a great choice if you want the rustic look of hardwood flooring with more durability. This stunning Atlantic Beach vinyl flooring from Downs Life H2O offers the same realistic look of genuine wood, but is also waterproof, scratch and dent resistant and has impressive sound absorption capabilities, making it a great choice for families, pets or areas in your home that are high traffic. Available in 5 color choices, this vinyl plank flooring will give a solid base to your Distressed Vintage design plans.
4. Elegant & Affordable Laminate Flooring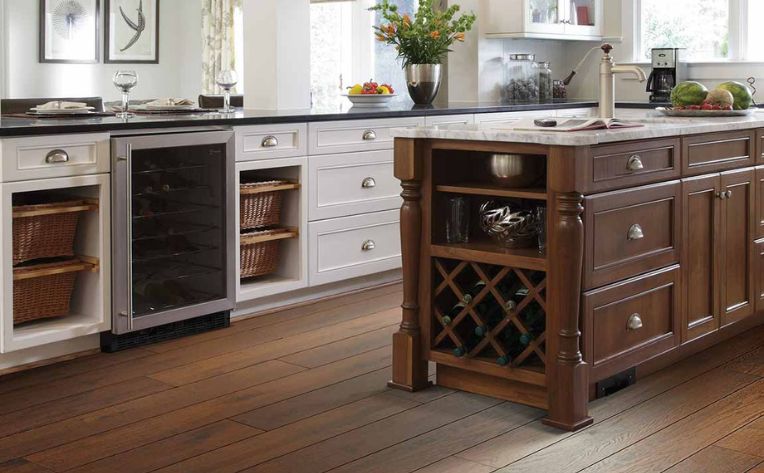 Much like vinyl flooring, laminate is a great durable and affordable alternative to hardwood flooring. Choose a laminate with a rustic, natural appearance that mimics the look of natural hardwood flooring. The upside of installing a quality laminate floor is that it will have complete wear, stain, fade and water-resistance. Laminate may be the better choice for people who like to entertain, larger households, or those with pets and/or children, due to its longevity and durability. Find a product that is embossed-in-register to give the same authentic surface texturing as genuine wood, to echo the Distressed Vintage Design.
With so many options to choose from, it can be overwhelming to decide which flooring solution will work the best for your space and Distressed Vintage design. Of course, we are more than happy to help. Consult the professionals at your local Flooring America for expert flooring advice, and check out our 2022 Style Watch list to read about this year's other top flooring trends and products.