Eye-Catching Luxury Vinyl Flooring in Little Rock, AR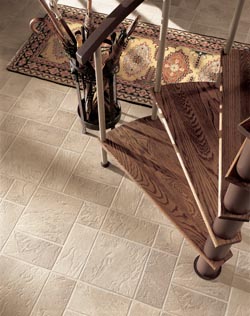 Natural flooring has been a beloved style trend since people first started building homes. Wood and stone have a timeless reputation as elegant, beautiful materials that offer homeowners exceptional durability and a look that's sure to impress for a lifetime. However, even with all of their benefits, these flooring materials have always had their share of limitations. With modern manufacturing, you can bypass those issues by using luxury vinyl flooring in Little Rock, AR.
At Arnold's Flooring America, we offer one of the most exceptional products currently on the market--COREtec. This trusted vinyl brand delivers on the vast potential of the material while supplying a refined, upscale level of quality and superior value for your money. COREtec floors are resilient, comfortable, and customizable, giving you everything you need to make your home both beautiful and unique.


Why Buy Vinyl?
The question remains: what makes vinyl the right choice when compared to natural options like stone and wood? Put simply, it gives you the versatility to floor your home your way. Our luxury vinyl plank and tile options use high-resolution embossed or textured surfaces to effectively emulate the beauty of its natural counterparts without the complications in sourcing and installation.
This comes in handy when you don't have the free time to worry about upkeep or want an authentic wood or stone look in a room where the real thing won't hold up. Bathrooms, for example, usually encounter too much moisture for hardwood to endure without warping. Similarly, kitchens, basements, and other places prone to spills or pet accidents tend to fare better with vinyl than the alternatives.
Get the look of stone with our luxury vinyl tile selection, or opt for a wood-like aesthetic with precision-manufactured planks. Either way, you'll enjoy comfort and style with floors that require minimal maintenance and cover almost any area of your home.


The Right Place to Shop Flooring
Still want to know more about your options? Ready to invest in COREtec now? For any flooring need, visit our showroom. Helpful staff members are on-hand to help you compare products and find the one that's right for your project in a spacious environment designed to give you as many choices as possible in one place.
Plus, we can offer everything from advice on luxury vinyl flooring installation to additional surface options like our extensive inventory of beautiful tile. No matter what you're looking for or where you are in the process of your flooring project, you can count on our team and our proven products to equip you with exactly the right materials to suit your needs.



Contact us today to get natural style with exceptional ease and value. We proudly serve Little Rock, AR, and the surrounding areas.