Hardwood Flooring Options
Beautiful Wood Flooring in Little Rock, AR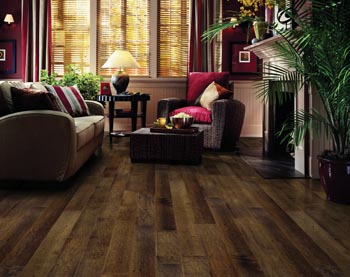 Whether you are replacing your old floors or building a new home and searching for a timeless flooring option, Arnold's Flooring America has an extensive collection of beautiful and durable
wood flooring in Little Rock, AR
. Our showroom features endless hardwood flooring options, so you can find your match, whether you are looking for a chic rustic oak or a traditional red maple plank.
By adding hardwood floors to your home, you are not only elevating its look, but you are even increasing its value. Hardwood floors are also versatile when it comes to style, so you can easily change the look of your home's interior without having to worry about the floors no longer complementing your new décor choices.
Solid Versus Engineered Hardwood
With the latest advances in flooring technology, you not only have a choice between what wood species you desire or what size plank you think would best fit with the design of your home, but you can choose between solid and engineered hardwood too. Traditional hardwood is composed of solid hardwood throughout, while engineered hardwood is made up of layers of cross-cut planks with a top layer of solid wood. Engineered hardwood tends to be more expensive than solid hardwood, but its many advantages outweigh the costs. Engineered hardwood is both more durable and more stable, so it can usually be installed in moisture-prone areas of the home because it contracts less with changes in humidity.
The Ease of Hardwood Maintenance
In addition to being durable and attractive, hardwood flooring is easy to maintain. While your old hardwood floors may have been challenging to keep in mint condition, our impressive selection of hardwood includes protections such as stain resistance and scratch-proof durability. Whether you are looking to elevate your kids' play space, or you are renovating the basement, our hardwood brands are built to withstand high traffic, and many styles come in waterproof options. This means that you can install hardwood anywhere in your home, including the bathrooms and your kitchen. You only need to frequently sweep, vacuum, and dust to keep your hardwood looking pristine for years to come. Some hardwood finishes can scratch easily, so be sure to consult your floor's warranty before using any chemical cleaners to ensure that you care for it properly.
Hardwood Flooring Installation
Once you have selected your flooring, our team of professional installers will place your brand-new hardwood floors. Hardwood flooring installation can be a tricky task, and our team comes prepared with the best tools and resources in the industry. We will work around your schedule and clean up once the task is complete, leaving you with beautiful new floors that you can enjoy right away. In addition to hardwood flooring, we also carry luxury vinyl tile, laminate, and so much more, so there is a product to meet the needs of every room in your home.

Contact us today to learn more. We proudly serve customers in city name, city name, and city name.