Laminate Flooring in Little Rock, AR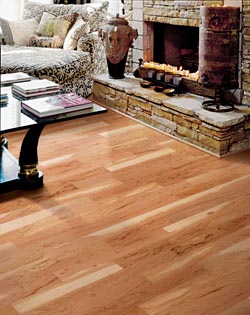 Beautify your home with new laminate flooring in Little Rock, AR. Our locally owned store is pleased to provide you with a fantastic selection of various options, such as high-quality laminate wood flooring. Our warehouse showroom is well-stocked with an eclectic selection of affordable flooring options that will enhance the look and feel of your interior and increase your home's value.
The Benefits of Laminate Floors
Laminate floors are beneficial to your home in so many ways. They balance pricing, resiliency, and style so that you can beautifully furnish your home without having to sacrifice quality or go over your budget. Laminate floors are created with rugged durability, superior finishes, and multidimensional textures that provide longevity and a unique beauty to your home's flooring. You can spend less time on the upkeep of your floors thanks to the scratch-resistance and easy cleanup offered by laminate.
Laminate floors have a unique layered construction that help them maintain their durability and style. They are designed to withstand daily use and the heavy traffic of an active family. Laminate floors are engineered in four parts, and each layer plays a vital role in protecting the integrity of your home floors:
The wear layer protects against fading, stains, and surface burns.
The design layer is the surface appearance and provides a variety of looks such as ceramic, hardwood, or stone.
The core layer is made of durable high-density board that protects against moisture and indentations.
The back layer also protects against moisture while providing stable balance for the floor.
Naturally Beautiful Laminate Wood Flooring
Laminate wood flooring is masterfully constructed and beautiful. Each piece is created with the visual design of vividly swirling wood grain, giving the aesthetically pleasing effect of solid hardwood. We are proud to offer a variety of grains (such as subtle, moderate, or prominent) to fit your personal style. Laminate wood flooring is not only beautifully crafted, but also durable and resilient. This cost-effective flooring option is the perfect choice for any room of your home.
Ornate Laminate Tile Flooring
You don't have to compromise your budget when you choose beautifully ornate laminate tile flooring. We have a wide spectrum of colors and designs at cost-effective rates so you can easily choose the right style for the right price. Our luxurious laminate tile will furnish your home with decorative function. Exquisite colors, effects, and patterns enhance our laminate tile flooring—whether you fancy a modern or classic design, you will be sure to find the right option for your home. Our professional sales team is happy to help you choose the style that fits your personal vision and taste. We proudly stock in our showroom an impressive selection of brands such as:
Pergo
Mohawk
Quick-Step
Mannington
Shaw
Professional Laminate Flooring Installation
Our trusted team of experienced flooring experts is ready to provide you with professional laminate flooring installation. Once you choose your beautiful new floor, contact our local store for quality service you can depend on. Our laminate flooring installation is accurate, efficient, and supported with a 100% guarantee against defects.


Call our local store today at <PHONE> to learn more about our high-quality laminate flooring. We proudly serve the community of Little Rock, AR, as well as the surrounding areas.