The Unique Schluter-KERDI Shower System in Little Rock, AR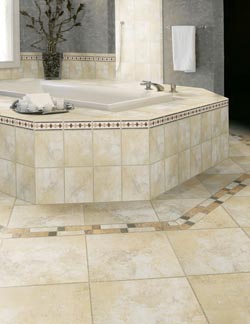 When you upgrade your bathroom, you want to expand your comfort as much as possible. One of the most exciting and valuable investments you can make is upgrading your shower. Whether it's hosting early-morning personal philosophy sessions or post-work relaxation time, this space deserves exceptional beauty and durability. That's exactly what you'll get when you take advantage of the Schluter-KERDI shower system in Little Rock, AR.
This one-of-a-kind upgrade delivers renowned looks, resilience, and waterproofing--and it's available at Arnold's Flooring America. Our team of tile experts knows quality when they see it, and the Schulter-KERDI shower system showcases exactly why its family of products is known for setting industry standards in both beauty and performance. Let us assist you as you explore your shower options in our luxurious showroom.


Tailored to You
What makes this system so exceptional? The same thing that sets any product apart: high-end quality with easy-to-use design. When you build custom showers using the Schluter-KERDI family of products, you can incorporate a wide range of features that give you greater control and comfort with the proven performance of a fully-integrated, bonded, and watertight assembly.
Whether it's adding a shower bench to aid an elderly family member or expanding your ease of use with corner shelves and niches, you can trust our team to help you find the right additions to complete your new and improved shower. Plus, we'll help you fit our available products your unique needs--saving you money on unnecessary features while also ensuring that you get a finished space you love.


Why Choose the Schluter-KERDI Shower System?
Anyone can build a shower, but the Schluter-KERDI family of products is the right choice when you want to craft a masterpiece. It takes advantage of leading techniques in modern manufacturing to eliminate risks like damage or system failure associated with vapor penetration. Specifically designed to enhance tile showers, this innovative product dramatically reduces the amount of moisture that would otherwise penetrate key features like:
Traditional Ceilings
Nearby Walls
This protection prevents long-term problems that often arise because of excessive water vapor, and can save you untold amounts of money over the course of time. Plus, our custom showers never compromise on beauty. For an enclosure that embodies ease, innovation, and value, there are only two names you need to know: Schluter-KERDI and Arnold's Flooring America.



Contact us for more information about the Schulter-KERDI line of shower systems. We proudly serve Little Rock, AR, and the surrounding areas.