Cutting-Edge Waterproof Flooring in Little Rock, AR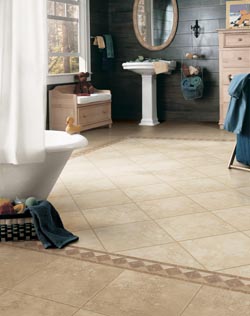 Your house is a busy place and accidents can happen. Whether it is kids running around, pets making messes, or plumbing failures, there are a lot of things that can go wrong. However, stains, mold, or warped floors do not have to be inevitable. Visit Arnold's Flooring America for waterproof flooring in Little Rock, AR, and see how they protect your home from daily life while also looking great.
Why Waterproof Surfaces Are a Wise Choice
Water is an essential part of all our daily lives. However, it can also be damaging to your property, especially when it soaks into your flooring. When this happens, your floor may shift or warp and create the perfect environment for mold to grow. Thankfully, when you have waterproof floors, this is never a worry.

Made from waterproof or resistant materials, these surfaces are designed to keep moisture at the surface where it can easily be wiped away. While using these materials in any room is an option, it is vital to use waterproof surfaces in spaces such as your bathroom, kitchen, or a laundry room. This is due to the increased amount of moisture in the air as well as the increased risk of water spilling.

To learn more about the importance of using waterproof materials or to explore our selection of flooring options, visit our showroom. We offer several great waterproof options, including waterproof luxury vinyl planks.
Any Design You Want
No matter what design you are trying to achieve in your home, we will help you find the right water-resistant flooring solution. We have many excellent flooring options to choose from and our design team will help you find the ones that work in your home. For your kitchen, bathrooms, or laundry rooms, we would recommend our water-resistant vinyl flooring.

Designed to mimic the appearance of wood or stone, vinyl is a cost-effective solution that works perfectly in any moisture-rich environment. Vinyl is also very simple to keep clean, with most messes wiping away with a simple cloth or mop. This ease of maintenance is one of the reasons that vinyl is the first choice of so many homeowners when it comes to water-resistant flooring.

When you are looking for a softer flooring solution, we still have you covered. We offer water-resistant carpet that is perfect for the living areas of your home. Made from specialized fibers, this carpet prevents water from soaking into its materials and makes messes easy to clean up. This is especially helpful when you have pets or small children.

Contact us when you are looking for waterproof solutions for your home's flooring. We proudly serve Little Rock, AR, and the surrounding areas.